AP Sensing is your global solution provider for linear heat detection in special hazard applications. Based on a proven track record our distributed temperature sensing solution (DTS) ensures reliable asset protection even in the most challenging environments.
The heart of our DTS solution is based on key technologies developed by HP/ Agilent Technologies, the world leader in optical test and measurement for over 25 years.
Building on HP/Agilent's processes and knowledge, we have established ourselves as the leading solution provider for linear heat detection in a wide range of applications.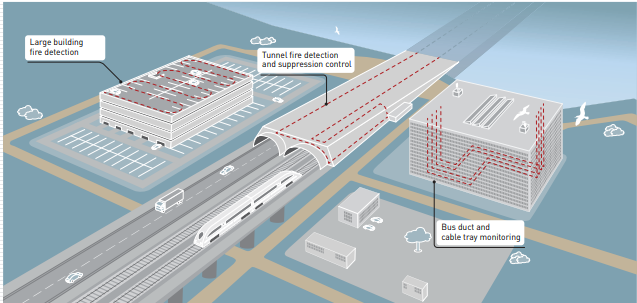 We understand your fire protection challenges, especially when your facility is exposed to harsh environmental conditions. AP Sensing's Linear Heat Series minimizes your operational costs and performs with maximum reliability. Safety systems demand highly reliable and quick fi re detection.
Larger facilities have challenging installation and commissioning requirements and higher maintenance efforts.
AP Sensing addresses these problems by using a standard fi ber optic cable as a precise, distributed heat sensor. Our Linear Heat Series measures an accurate temperature profi le every few seconds along a fi ber optic cable, up to several thousand meters.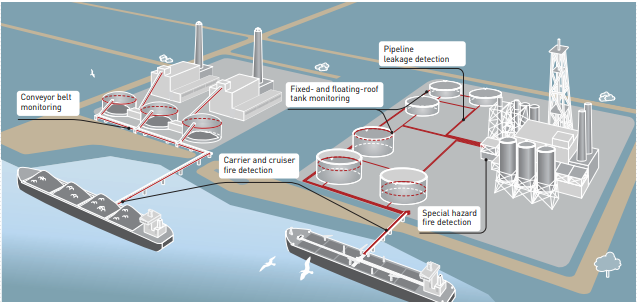 Fiber optic LHD solution advantages
A single passive cable, easy to install

Immune to EMC, dirt, dust and humidity

Maintenance-free, longest life time

Largest coverage Functional even at 1000° C

Precise location of all fi re events Fire size and spread monitoring

Five different alarm criteria for quick detection

Flexible zone and alarm confi guration
Applications
Tunnels, metros, car parks

Conveyor belts

Cable trays and transformers

Bus ducts, false floors and ceilings

Tank farms, coal storage

Production areas

Power plants including NPP

Refineries and chemical plants

Offshore platforms

Warehouses and freezers
Your AP Sensing advantages
Best detection performance due to patented code correlation

Lowest false alarm rate thanks to patented single receiver

Low-power laser for safe use in hazardous areas

Highest availability based on quality components and Agilent's design

Real-time operating system designed for mission-critical applications (VxWorks)

Fire monitoring capabilities even at highest temperatures (cable tested at 2 h and 750° C)

Certified for maximum sensor cable length and spacing

Market's most complete test reports and certifications (VdS EN 54-5, UL 521, ULC S530, ATEX II(1) GD M2, KFI, China)
Why choose AP Sensing?
Industry-leading linear heat detection technology

Experienced, dedicated team for engineering and project management

Range of certifi ed sensor cables to fi t every need

Intelligent alarm management software: SmartVision

Easy integration through fl exible protocols and interfaces

Industry's most comprehensive list of certifications and product tests

Highest quality and longest product life World-class service, support and training

Worldwide presence with expert regional partners